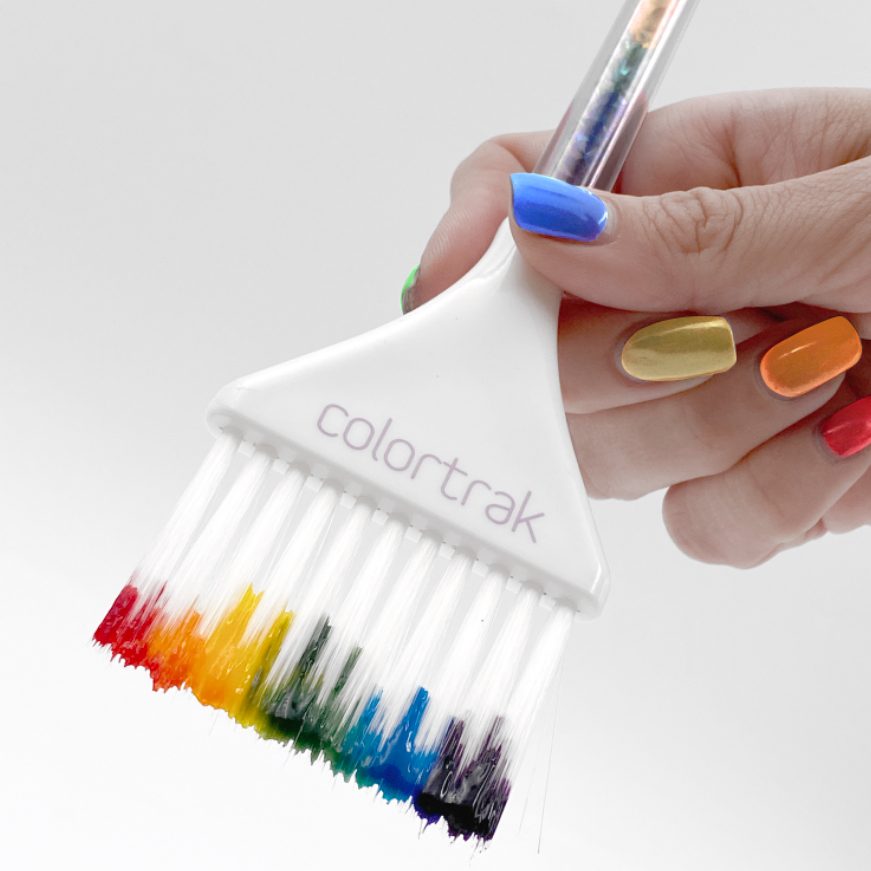 Exclusive Colortrak Offer For Friends Of BIBA
BIBA is excited to be at the cutting edge of Australian hairdressing and we are proud to partner with brands who are also making waves in our industry.
Marilyn Guarino, BIBA Academy's Senior Colour Technician, was recently invited to become a Colortrak Crew Member and she's thrilled at how innovative, practical and exciting the Colortrak range is. "There's glitter, handy thumbprint grips, suction on the bowls and lots of bright colours to add some fun to your work. Friends of BIBA Academy can access a special discount code to kit themselves out with awesome brush and bowl starter sets, brushes with interchangeable heads, drawing detailers for intricate colour line work, and the choice of short or longline handles. There is also foiling film, the brilliant Repelle Hair Colour Stain Shield, aprons, gloves and capes to choose from. Everything in the range is designed to lift your mood, make colouring more fun, and features brilliant innovations to make your colour application easier."
Nick Panagiotou, of Salon Cosmetics, explains that his family discovered the Colortrak range 12-18 months ago in the United States and are excited to make it available to Aussie hairdressers. "It doesn't matter where you are in the world, if you're attracted to colour and love to experiment, you've likely experienced issues with the tools available. A lot of brushes on the market make it more difficult to apply colour with accuracy. Our brushes have flexibility—some are tapered, some feathered, some long and others more firm. And then there's the slimline versions, the colour coded bowls that join together when you're designing a rainbow of hues, bowls with lids that seal the solution for longer term use than normal, and others with easy-grip handles that angle upwards to make them fit more snuggly in the palm of your hand. We're not forgetting the traditionalists either. If you want brushes in plain black and white—we've got you. But if you're after something a bit more exciting, we also have a plethora of different designs and colours to choose from.


























"We've set the bar high on quality but the price is still reasonable."
Nick explains, "we want hair colourists of all abilities to be able to access to our products. And these tools are not just about their good looks, either. Our brushes, colouring Starter Kits and other products are expertly designed for those wanting to improve their techniques, section with ease and apply colour brilliantly. Our Colortrak Ambassadors and Crew Members, like Marilyn at BIBA Academy, are all innovators who shine in their salons. They are inspiring hair artists who want to push the boundaries of what is possible. None of our team are happy with 'ordinary' and they expect the tools of their trade to help them be extraordinary."
Get Your Colortrak Discount Now
View the Full Range at the Salon Costmetics.
Passionate colourists at every stage of their career should visit the Colortrak page now to receive an exclusive discount for friends of BIBA Academy. Use the code MARILYN at checkout for 10% off  anything in the range. It's time to bring colour to your world—in more ways than one!