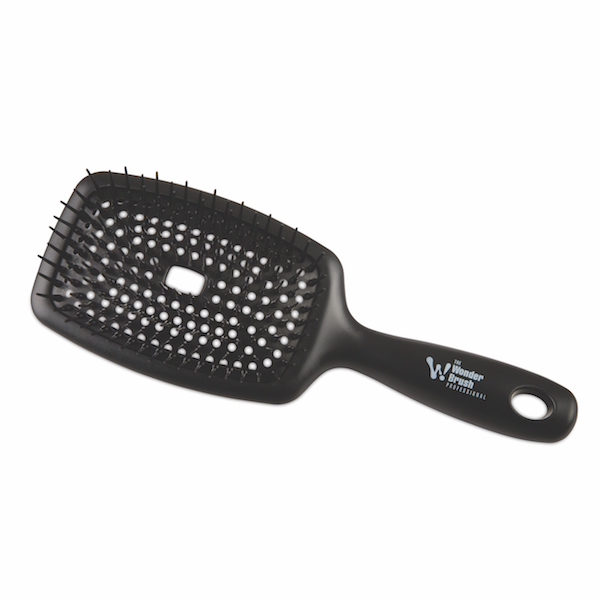 Cult Detangler Lands At BIBA Academy
Finding the right tools for your hairdressing kit is easy at BIBA Academy. We recently became a stockist of Wonder Brush Professional Detangle Airflow Paddle Brush and can barely keep up with the demand. This brush is considered a must-have item by our educators and students.  It seems that everyone on the floor has a story about the impossibly difficult hair that they managed to tame with this tool. Adding lift whilst styling is also super-easy with the Wonder Brush. It's uniquely designed to detangle with its anti-snag flexible, plastic bristles, whilst allowing air to flow through the paddle section holes. This venting action, as you dry the hair, adds a light sweep, and will also do the same if you're using it on dry hair (to finish off). When used on long straight styles, the brush gives touchable softness (with or without a blow dryer in hand) and it's perfect for brushing your hair out in before crafting your new 'do.
The Wonder Brush is amazing for smoothing hair reducing frizziness and is suitable for all every member of the family. And if you have a pet that is prone to matted hair, they're great for that, too!  The comfortable, anti-slip handle grip also makes it simple for children to use as well.
Marilyn Guarino, one of our champion educators, sees the Wonder Brush as an essential tool. She explains:
"They come in a range of colours (black, pink and purple) and are designed to remove knots from all hair textures. Whether your hair is afro, straight, thick, thin, curly or wavy, this revolutionary brush covers everything. It eliminates tangles completely and has new airflow technology that makes hair drying so much easier. At the same time, it acts as a scalp massager and improves blood circulation to the head. It's also designed to minimise hair breakage and won't disturb the fibre or texture of your hair. It truly enhances our work. In fact, we love it so much that it's now a staple inclusion in our BIBA Standard Hairdressing Kit and our BIBA  Premium Hairdressing Kit."
Visit us at our Johnston Street Campus today for a chat about the hairdressing products and equipment to best suit your needs. You can also browse the offerings in our online shop. We have so many quality products to choose from—there is sure to be a tool to change your life!