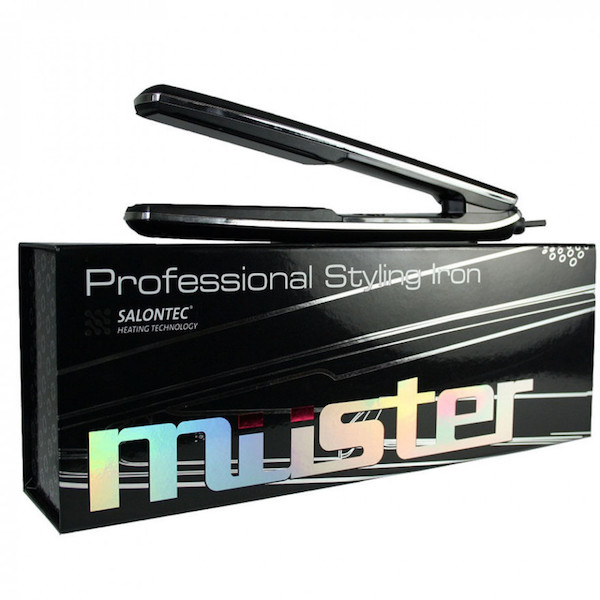 Muster Professional Styling Iron Now Available
BIBA Academy stocks an ever-growing range of must-haves for your hairdressing kit. The Muster Styling Iron is just one of the professional quality tools available for purchase by our students and clients. Before GHD and Cloud 9, there was Muster: the original cult styling iron. Muster remains the best choice available with its Salontec heating, temperature control, floating plates and a 24-month warranty.
State-of-the-art Salontec heating technology ensures that you'll always have the perfect temperature for any style or hair type. The irons also feature floating, curved plates to ensure easy, one-stroke straightening, flipping and curling.  These plates are super-smooth and oil-infused for frizz-free results. Taming your hair with a Muster Professional Styling Iron will smooth and seal your hair cuticles, leaving your locks feeling luxurious and styled to perfection.
Suitable for all hair types, the Muster has variable temperature controls (from 150-230 degrees Celsius) for ultimate performance at home or in the salon. Many other popular irons on the market are not this versatile. The Muster Professional Styling Iron also boasts an auto shut-off feature that ensures peace of mind. Never spend another day worrying that you've left your straightener on by mistake!
As Simon Divitaris, the Managing Director at BIBA Academy, says, "we carefully select the hairdressing equipment that we see here.  Choosing professional hairstyling tools is as important to us as it is to you and that's why we recommend the Muster Professional Styling Iron.  Muster's reputation and generous warranty give you peace of mind. Knowing they have trust in their product is just as important as the quality of its design and its functionality. The Muster will help you create the salon-professional looks that you wish to achieve on your own hair or that of your clients."
BIBA Academy in Fitzroy stocks a wide selection of must-have hairdressing products and equipment. Check out our the Muster Professional Styling Iron in person or at our online shop today.